Books
---
 Olive Witch: A Memoir
(Harper360 2017, HarperCollins India 2016)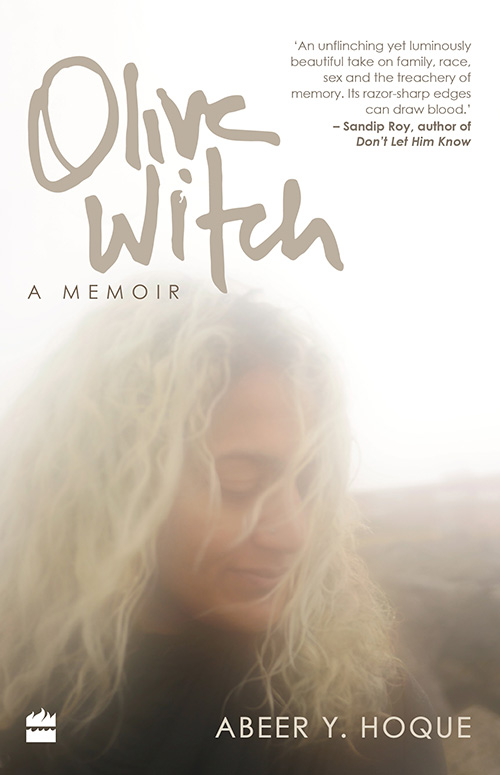 In the 1970s, Nigeria is flush with oil money, building new universities, and hanging on to old colonial habits. Abeer Hoque is a Bangladeshi girl growing up in a small sunlit town where the red clay earth, corporal punishment and running games are facts of life. At thirteen she moves with her family to suburban Pittsburgh and finds herself surrounded by clouded skies and high schoolers who speak in movie quotes and pop culture slang. Finding her place as a young woman in America proves more difficult than she can imagine. Disassociated from her parents and laid low by academic pressure and a spiraling depression, she is committed to a psychiatric ward in Philadelphia. When she moves to Bangladesh on her own, it proves yet another beginning for someone who is only just getting used to being an outsider – wherever she is. Arresting and beautifully written, with poems and weather conditions framing each chapter, Olive Witch is an intimate memoir about taking the long way home.
Order Olive Witch in paperback, ebook, or audiobook format on Bookshop, IndieBound or Amazon. More reviews and press here.
Some multi-media excerpts from Olive Witch:
An unflinching yet luminously beautiful take on family, race, sex and the treachery of memory. Don't be fooled by the frangipani beauty of Abeer Hoque's prose. Its razor-sharp edges can draw blood.
Sandip Roy (author of Don't Let Him Know)
… an intelligent, riveting, startlingly honest voice. The writing is elegant and remains exhilarating even when the events are dark.
Chika Unigwe (author of On Black Sisters Street)
Sometimes as a reader you thirst for a tale that you don't know you are missing. Abeer Hoque's memoir, Olive Witch is one of these. A brave and gorgeous new voice has arrived among us and I am thrilled to welcome her into the fold.
Nayomi Munaweera (author of Island Of A Thousand Mirrors)
… tales of displacement and dislocation span three continents, bringing each to life in vivid, haunting snapshots that weave together into a delicately drawn and fascinating memoir. Not since Michael Ondaatje have I read a writer who so seamlessly marries poetry with prose in their writing with such a deft, bittersweet touch.
Zafar Sobhan (editor of the Dhaka Tribune)
Boy, this is elegant writing: smooth, clean, sharp, but, with just enough wiggle. The writing is wonderfully alive, and drawn with such economy it gives the (false) impression of being easy. It's not. Abeer Hoque's natural lyricism is sustained by being contained and framed. She rolls but she controls, and she does it so well.
Aaron Shurin (author of The Skin Of Meaning)
Vivid and unflinching, a coming-of-age story of migration, and the pain, rupture, and redemptive possibilities of displacement.
Tahmima Anam (author of The Bones of Grace)
Some gorgeous writing. Spontaneous. Fresh. Fire in the belly fresh.
Andrew Pham (author of The Eaves Of Heaven)
…traverses a wide emotional landscape, juxtaposing perceptions, moods, and events which though they seem disparate, form a compellingly authentic mirror for the fractured world we all share.
Paul S. Flores, Susan Griffin, and Andrew Leland (Judges for the Tanembaum Award in Nonfiction from the San Francisco Foundation)
Abeer Hoque has written a memoir that sneaks up on you, and suddenly you are captivated. Here is a story of finding one's place in a world that insists too strongly on national borders and other lines of division. Here is a story of crossing borders–of rising above burdens of identity, of learning to accept oneself as well as the circumstances of one's birth. Here is a story of one woman's journey to self-actualization.
Chinelo Okparanta (author of Under The Udala Trees)
…vividly conveys each setting with its unique joys and heartaches and the complex parts they play in an ever-changing sense of self and home. The father-daughter relationship portrayed here is moving as well in its evolution over the decades.
Pavani Yalamanchili (editor of The Aerogram)
Full of visceral landscapes, characters, and scenes from a life lived on three continents, Olive Witch is an intense examination of displacement and fragmentation, loss and getting over it. Written with honesty, intelligence, and an eye for sensual detail, this is a fierce and gorgeous memoir.
Stephen Beachy (author of Boneyard)
---
The Lovers and the Leavers
(HarperCollins India 2015, Bengal Lights Books 2014)
"…before you eat, there is love. It comes even before your hunger."
In twelve linked stories, the characters in The Lovers and the Leavers intersect and drift apart across several years and continents. Komola, a maid in a quiet mansion in Dhaka, begins a doomed relationship with a handsome, mysterious man. Her nephew, a gifted little boy in her village, nurses a terrible secret, and his mother flees, ending up by the sea in Chennai. At the other end of the world, a Bangladeshi-American woman, Rox, lusts after a teenager, while her best friend, the rebellious Ila, must choose between love and tradition. Artfully woven with poems and photographs, these stories move between India, Bangladesh, America and Europe. A haunting, lyrical collection, The Lovers and the Leavers announces the arrival of a formidable talent.
Order The Lovers and the Leavers in paperback or ebook format on Bookshop, IndieBound or Amazon. More reviews and press here.
Some multi-media excerpts from The Lovers and the Leavers:
…an ambitious undertaking, spirited and subtle. Yet for all of Hoque's impressive artistry, she seeks very recognizable ends: to give us a vivid sense of place as rich as the people who inhabit it and to render the inner lives of those people, to let us feel their passions and their pains–those that mark them and make them sometimes beautiful, sometimes broken, but always always compelling.
Eric LeMay (New Books Network)
Prose interleaves poetry interleaves photography. The effect is dazzling. The reader's pulse quickens in response to these remarkable stories in which eros is not examined so much as inhabited. Characters leave the pages of one story to resurface in another story at some other stage in life. They are lovers who leave, and they return as lovers. 
Mridula Koshi (author of Not Only The Things That Have Happened)
The characters surface, lead you slowly to the edge, and you fall in love with them––and then they leave you for a moment, submerged on your own, reemerging in another story.
Nadia Q. Ahmad (Asian American Writers' Workshop)
Abeer Hoque gifts her readers three distinct pleasures in this collection of interconnected stories of intertwined lives and interwoven loves: the crystalline clarity of her photography, the quiet elegance of her poetry, and the vivid sensuality of her prose. Together, they bring to life modern Bangladesh and the lives and loves of its people, wherever they live.
Salil Tripathi (author of The Colonel Who Would Not Repent)
 Lush and lyrical, raw and unnerving, 'The Lovers and The Leavers' is an impressive debut; a sensuous, poignant exploration of the joys, complexities, and consequences of human desire and connectivity in a global age.
Sheba Karim (author of Skunk Girl)
Hoque is one of the most exciting writers working both in and out of the sub-continent and her fiction is made up of that rare mixture: searingly clean passion alloyed with the courage to take risks with form.  
Ruchir Joshi (author of The Last Jet-Engine Laugh)
Thanks to her beguiling appearances in magazines and anthologies, Abeer has long been recognized as a promising and versatile writer and photographer. The Lovers and the Leavers will warm the hearts of her old admirers and win her new ones. Written with cool assurance, the interlinked stories of this debut novel zing around our troubled and exciting globalized world.
Kaiser Haq (author of Pariah And Other Poems)
Abeer Hoque's words sing from every page. In lyrical and playful prose, sometimes in the cadence of bansuri melodies, other times with the bounce of hard rock, these stories speak of love, fierce as a runaway car, soft as a moan. Sexy, cosmopolitan, and loaded with quiet humor.
Mahmud Rahman (author of Killing The Water)
---
The Long Way Home
(Ogro Publishing, 2013)
The Long Way Home is a book of travel photographs and poems, shot and written between 2005-2013. It ranges over five continents, twenty three countries, 72 singular places, and is organized into ten whimsical chapters that take none of this geography into account. Visit the Facebook page.
Introduction to The Long Way Home:
"I've never had an easy time parsing borders. Even the places I belong to, and there are many, sometimes feel alien, and some strange places have become home. This is one of the reasons I love photography. It doesn't matter where you're from, only where you are and how you see it. It lives beyond language, maybe even beyond place…"
Read the rest on The Aerogram, April 2013
---